SANTA ROSA YELLOW BOURBON COFFEE - GREAT TASTE AWARD WINNER
It's been another year of intense sourcing, roasting, cupping, and blending here at PureGusto with over 100 coffee's rejected we only roast & ultimately supply some of the finest quality coffees we can source.
Yellow bourbon coffee's which are so named for their unique yellow fruit, produce a remarkable crop, given the namesake of its nursery - Bourbon Island. This vibrant yellow crop with its unique flavor profile excelled in every way and is now industry renowned for quality, aroma and taste.

Once cupped, this coffee which we roast just after the second crack or "city roast" as it's often referred to, turned out to be astonishingly clean and elegant. No doubt a result of a high degree of presorting and pickings to remove the un-ripes and defects at the farm.
The source itself is a rainforest alliance-certified farm situated some 1200-1500 meters above sea level with extremely fertile volcanic soil - optimal growing conditions for superior quality arabica coffee!
When tasted expect notes of sweet plums and stone fruit acidity with warm spices to round up the cup. This espresso is also creamy yet balanced and exhibits plenty of nutty caramel tones to the coffee. This is one perfect cup for those who just want to enjoy a nice clean but flavorsome coffee...
A truly superior find! What's more, there's only a handful of roasters in Europe importing this unique bean, with the plantation's rainforest alliance credentials mean that its ethical sourcing and farming make it a perfect coffee bean for quality coffee serving establishment.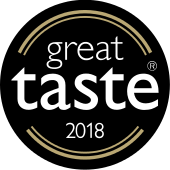 Great Taste Award 2016 & 2018 Winner
PureGusto Coffee Beans
Not all coffees are one and the same, more importantly, not all roasters are equal either!
PureGusto Coffees are the culmination of;
Some of the world's finest coffee beans are sourced from growers all over the world.
Years of blending knowledge from some of the leading industry roasting experts
Superior roasting using a unique state of the art convection coffee roaster here in the UK
The result… "Simply, Remarkable Coffee."
Is convection roasting really better quality or are we just blowing hot air? (excuse the pun)?
Convection roasting or air roasting is exactly how it sounds, smooth streams of hot air gently pass over the coffee beans until perfectly roasted. This creates a smooth and equally as important, even roast, without any scorching or over-roasting usually associated with traditional drum roasters.
There are only a handful of commercial convection roasters in Europe, you've found one! Welcome to exceptionally smooth roasted coffee.
Preparation Suggestions
Espresso

Capuccino

Lungo

Café Crème
Aroma
Fruity and Floral

Chocolate-Like and Nutty

Spicy

Sweet




Cereal-Like

Roasted

Herbs

Bitter
Features
Preparation Mode:
Fully Automatic Machines Coffee

Espresso Machines Coffee
Coffee Bean Type:
Arabica
Certification:
Fair Trade Coffee
Country of Manufacture:
United Kingdom
Countries of Origin:
Central America & South America
Caffeine:
Caffeinated Coffee
Aroma
Features
Chocolate-Like and Nutty:
2
Preparation Suggestions
Features
Please sign in so that we can notify you about a reply
Please sign in to follow the vendor